There are a few ways to teach someone how to play piano. Most schools will focus on reading for almost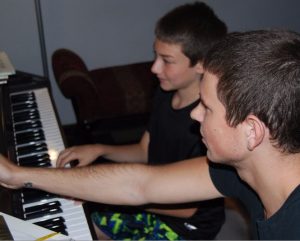 a year before you actually learn how to play a song…not a song that you like, but a song from your music book. I know that's not how I'd like to learn how to play the piano!
Learning an instrument should be fun. You should also learn to play the music that inspired you to want to play. When we teach you to play piano we will teach you to play the songs you want to learn. While teaching you songs we also teach you the music theory behind it.
Let me explain.
Let's say you're learning to play a song you just heard on the radio. While we are teaching you the song we are also teaching you the chords that are played. We will explain what chord is a major chord, which chord is minor. What makes the difference between major and minor chords? We'll teach you the key that the song is in and what scales you can play in that key. I guess you can say we sneak in some music theory while you learn. We do this so you will be able to use these songs as a learning foundation. It is much easier to teach someone to play an instrument while learning something they like, then teaching them to learn something they don't like.
At the Staten Island School of Rock we know there are a few options on what type of piano's you can learn on. We prefer teaching on a weighted key piano. So what's a weighted key piano you ask? Weighted keys are keys that are actually found on acoustic (grand piano/upright piano) pianos. It is a lot easier to build finger strength on a weighted piano then on a keyboard. We have found this to be the best approach to teaching piano.