There are so many aspects of vocal lessons. Between warming up and drills, to breathing techniques and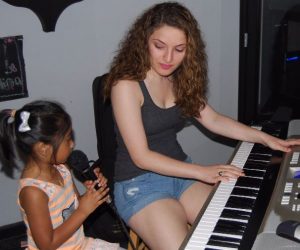 performance, the Saten Island School of Rock focuses on all of it. We recommend full hour lessons for those interested in taking vocal lessons. Spending an ample amount of time warming up before the lesson begins will ensure you do not damage your voice. It also makes for a good routine every time you are about to sing or perform. Many schools will focus on just singing. That isn't too bad, after all that's what you're going to lessons for. But what happens when it is time to perform live or write your first song? Or better yet record your first song? And what about harmonies? You'll need some music theory to help out when it comes to harmonizing.
At the Staten Island School of Rock, our vocal coaches integrate piano when teaching you how to sing. Understanding what notes to sing and what notes make up what chords is crucial to singing. How else can you write harmonies if you don't know what notes are in the chords you're singing over? Good question, right?
Fortunately our vocal coaches come with many years of recording and writing experience as well as live performance experience. Most times your vocal lessons will be recorded. There are so many techniques involved when recording vocals that are just as important as learning to sing.
And of course there are our Staten Island School of Rock performances we do every two months. Getting on stage and performing with a band is what it is all about! These performances gives you the opportunity to get up on stage and sing your heart out! What good is learning to sing if you can't get on stage with a band and perform? After you do it once, you'll want to do it all the time!